Alps Après Ski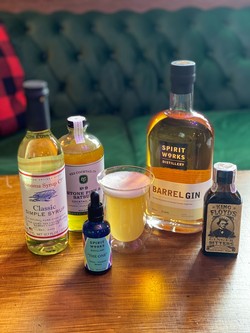 Each kit includes:
1 750 mL bottle SWD Barrel Gin
1 473mL bottle Stone Pine & Satsuma
1 375mL bottle Sonoma Syrup co. Simple Syrup
1 50 mL bottle SWD "The One" citrus aromatic bitters
Alps Après Ski
1 1/2 oz Barrel Gin
1/2 oz Grapefruit juice
1/2 oz Stone Pine & Satsuma
1/4 oz Lemon Juice
Barspoon Simple
1/3 sleeve SWD "One" bitters
1 egg white or vegan replacement
2.5 oz Hot H2O
1 dash ginger bitters - top
Prep mug with hot water, allow to sit.
Combine all ingredients except hot water and ginger bitters.
Dry shake 20 seconds.
Dump prep water, replace with 2.5 oz.
Then pour frothy mix over hot water.
Top with dash of ginger bitters