Cupid's Arrow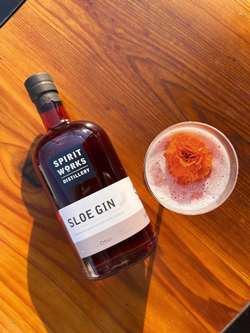 What a great, luxurious cocktail. This one needs a purple velvet couch and some dim lights....
Each Kit Includes:
1 bottle Spirit Works Sloe Gin

1 bottle Yes Cocktail Company Hibiscus Rose Mixer
1 bottle Sonoma Syrup Simple Syrup
1 bottle Flora Luna Cardamom Clove Syrup
1 bottle Honey Aromatic Bitters
Recipe:
1 1/2 oz Spirit Works Sloe Gin
3/4 oz Lemon Juice
1/3 oz Hibiscus Rose
1/3 oz Cardamom Clove
12 Drops Honey Aromatic Bitters

Add all ingredients with ice and shake for 10 seconds.
Fine strain into a Nick & Nora glass.
Top with sparkling water.

Makes approximately 15 cocktails.