Ginimy Christmas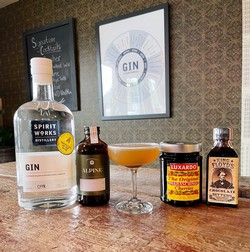 Each kit will make approximately 15 cocktails.
Each kit includes:
1 bottle of Spirit Works Gin
1 bottle of Yes Cocktail Company Alpine Tonic Syrup
1 bottle of Luxardo Maraschino Cherries
1 bottle of King Floyd's Chocolate bitters
Recipe:
-1.5oz Spirit Works Gin
-3/4oz Yes Alpine tonic syrup
-3/4oz lime juice
-5 dashes King Floyd's Chocolate bitters
-4 mint leaves

Combine all ingredients in a shaker tin with ice. Shake for 10 seconds, then double strain into a coupe. Garnish with a cherry.