Here We Go A-Wassailing Kit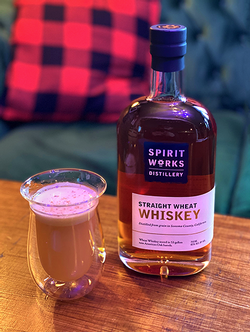 Each Kit Includes:
1 750mL bottle Straight Wheat Whiskey
1 375mL bottle Liquid Alchemist Ginger syrup
1 375mL bottle Liquid Alchemist Apple Spice elixir
1 375mL bottle Sonoma Syrup co. Vanilla Bean syrup
1 50mL bottle Spirit Works "The One" Citrus aromatic bitters
Will also need: butter and lemon juice
Here We Go A-Wassailing
1.5 oz SWD wheat whiskey
3/4oz Fresh Lemon Juice
3/4oz Liquid Alchemist Ginger Syrup
1/2oz Liquid Alchemist Apple Spice Syrup
1/2sleeve (25 drops) SWD "The One" Bitters
1.5oz Boiling water
1/2 Tbsp butter
Pre-heat mug or tea cup by filling with additional hot water, let sit while you make cocktail. To make cocktail blend all ingredients using a drink mixer until emulsified and frothy. Dump pre-heating water before pouring cocktail into a mug or teacup. Garnish with fresh nutmeg.