Mayflower Sour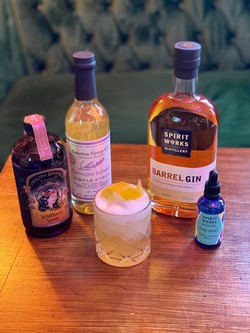 Each Kit Comes with the Following:
1 750ml bottle SWD Barrel Gin
1 473ml bottle Floraluna Wildflower Syrup
1 375ml bottle Sonoma Syrup Co. Lavender Syrup
1 50ml bottle SWD "the one" Citrus Aromatic Bitters
Recipe:
1.5oz SWD Barrel Gin
0.75oz Floraluna Wildflower Syrup
0.75oz Lemon Juice
0.25oz Sonoma Lavender Syrup
1/2 sleeve SWD "The One" Citrus Aromatic bitters
1 egg white (or vegan substitute)
Combine all ingredients in a shaker tin.
Dry shake (without ice) 10 seconds, then add ice and shake again for 10 seconds.
Pour into a rocks glass, then garnish with a lemon peel.