Plum Dandy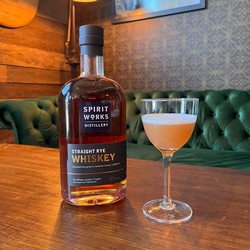 Each kit includes:
1 bottle Spirit Works Straight Rye Whiskey
1 bottle Small Hand Foods Orgeat Syrup
1 bottle INNA Shrub - Plum
1 bottle Ms. Better Bitters Miraculous Foamer
Recipe:
1 1/2 oz Straight Rye Whiskey
3/4 oz Inna plum shrub
3/4 oz Lemon
1/3 oz Small Hands Orgeat
1/2 Sleeve Miraculous Foamer

Measure into shaker and dry shake 10 seconds.
Add ice and shake another 10 seconds.
Fine strain into a Nick & Nora glass.
Makes approximately 15 cocktails.