Ruby Rose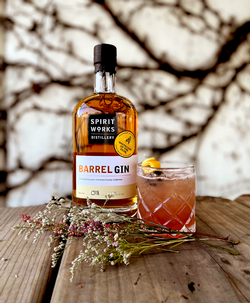 Each kit includes:
1 bottle Spirit Works Barrel Gin
1 bottle Flora Luna Honey Syrup
1 bottle Small Hand Foods Grenadine Syrup
1 bottle Scrappy's Aromatic Bitters
Recipe:
1 1/2 oz Spirit Works Barrel Gin
3/4 oz Honey Syrup
3/4 oz Grapefruit Juice
3/4 oz Lime Juice
1/3 oz Small Hand Grenadine
3 Dashes Scrappy's Aromatic Bitters

Shake all ingredients with ice and pour into a rocks glass.
Garnish with grapefruit rose and cherry.
Makes approximately 15 cocktails.