Saturn Return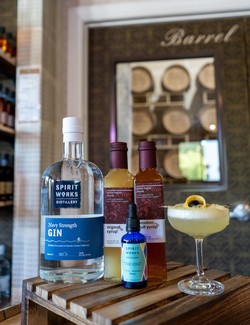 Each Kit includes:
1 750ml bottle Spirit Works Distillery Navy Strength Gin
1 251ml bottles Small Hand Foods Passionfruit Syrup
1 251ml bottles Small Hand Foods Orgeat Syrup
1 50ml bottle Spirit Works Distillery "the one" Citrus Aromatic Bitters
Recipe:
1.5 oz Navy Strength Gin
0.75 oz Lemon juice
0.75 oz Passionfruit
0.75 oz Orgeat
1/2 sleeve SWD Citrus bitters
Combine all ingredients in a blender with 1/2cup of ice. Blend for 10 seconds, then pour into a coupe glass. Garnish with a lemon peel wrapped around a cocktail cherry on a pick.