Staycation Cocktail Kit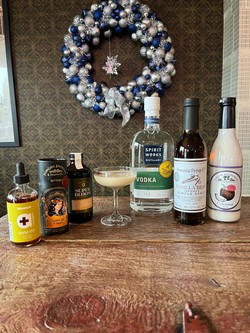 Each Kit Includes:
1 bottle Rye Vodka
1 bottle Liquid Alchemist Coconut Elixir
1 bottle Sonoma Syrups Vanilla Bean Syrup
1 bottle Yes Cocktail Co. Superbloom Tonic
1 bottle Addition Bitters Fenugreek Tincture
1 bottle Flora Luna Smoked Salt & Pepper Bitters
Makes approximately 25 cocktails.
Recipe:
-1 oz Rye Vodka
-1/2 oz Coconut elixir
-1/4 oz Vanilla Bean
-1/4 oz SuperBloom Tonic

Combine all ingredients in a shaker tin with ice. Shake for 10 seconds, then strain into a coupe. Garnish with 1 drop each Fenugreek and Salt & Pepper Bitter, and finish the drink with a rose petal.