Sweater Vest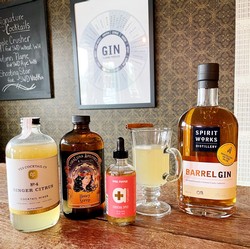 Each kit will make approximately 15 cocktails.
Each kit includes:
1 bottle Spirit Works Barrel Gin
1 bottle Flora Luna Honey Syrup
1 bottle Yes Cocktail Company Ginger Citrus Mixer
1 bottle Addition Bitters Pink Peppercorn Tincture
Recipe:
-1.5oz Spirit Works Barrel Gin
-3/4oz Yes Ginger Citrus
-3/4oz Lemon juice
-1/4oz Floraluna Honey Syrup
-14 drops Addition Pink Peppercorn Tincture

Combine all ingredients in a preheated heatproof mug, then top with 1/2 cup boiling water. Garnish with a cinnamon stick.