Whiskey Winter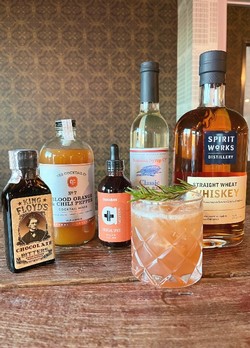 Each kit will make approximately 15 cocktails.
Each kit will contain:
1 bottle Spirit Works Straight Wheat Whiskey
1 bottle Yes Cocktail Company Blood Orange Chili Mixer
1 bottle Sonoma Simple Syrup (small)
1 bottle King Floyd's Chocolate Bitters
1 bottle Addition Bitters Cinnamon Tincture
Recipe:
-1.5oz Wheat Whiskey
-3/4oz Blood Chili Mixer
-3/4oz lemon juice
-10 drops Addition Cinnamon Tincture
- 1 barspoon luxardo cherry syrup
- 1 barspoon simple syrup

Combine all ingredients in a shaker tin with ice. Shake for 10 seconds, then strain into a rocks glass over fresh ice. Top with 1 dash chocolate bitters, then garnish with a rosemary sprig.